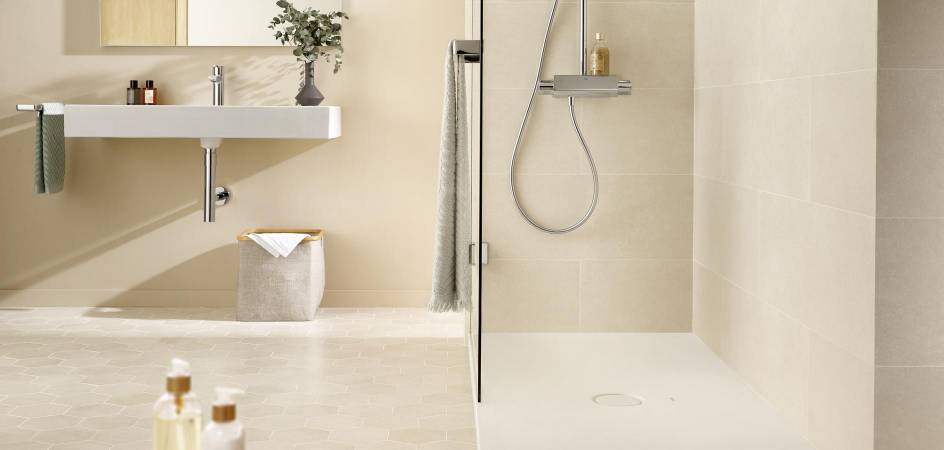 Inspiration
3 STYLES FOR SMALL BATHROOMS WITH SHOWER
Who said you have to give up comfort in your small bathroom? Here are three combinations to fill your shower with style and wellbeing.
When creativity and innovation join forces, compact spaces reinvent themselves. Today it is possible to lend personality to small bathrooms with shower by means of new materials, modern features or updated textures, in designs that greatly increase the possibilities of the smallest bathroom. As you have never been fond of limitations, today we bring three combinations that fill the shower with vitality and style, regardless of its size.
1. Antislip vitreous china shower tray and thermostatic shower column
The lack of space is not a reason to stop looking for the maximum performance in small bathrooms. Take a step beyond conventional vitreous china and opt for a shower tray that offers the greatest benefits.
Cratos combines the proven hygienic qualities of vitreous china and a fully antislip surface of extraordinary resistance. Manufactured in Senceramic®, Roca's innovative enamel, the Cratos shower tray ensures maximum safety in the bathroom thanks to its outstanding antislip texture. Its slim and extraflat design allows its floor-leveled installation to gain freedom of movement. And as it can be cut to the exact dimension, Cratos adapts to reduced spaces. As for color, it has five different finishes, so that you can choose the one that best suits your interior design.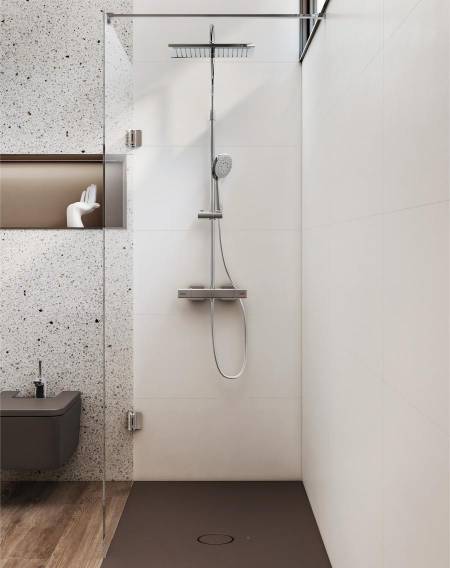 If you add a thermostatic shower column to the antislip shower tray, your small bathroom will offer more comfort as the water will heat up in seconds, without wasting a drop and while you shower, the temperature will remain stable, even if you open other taps around the house. Choose from the different dimensions of the Victoria thermostatic column or opt for the Even model and its practical shelf installed on the single-lever faucet. You will enjoy the rain effect during your shower with both models.
2. Surfex® antislip shower tray and barrier-free enclosure
To delve into the feeling of spaciousness in a small bathroom, there is nothing better than a minimalistic design in which brightness, sobriety and open barrier-free spaces are highlighted.
The antislip shower tray of the Modo collection, manufactured in Surfex®, a mineral compound, will add a touch of sophistication to your bathroom, thanks to its uniform and joint-free design. Its delicate warm and matt texture, very pleasant to the touch, together with its white finish create this minimalistic effect. And as Surfex® can also be cut to size, you will be able to install the shower tray despite having a limited space.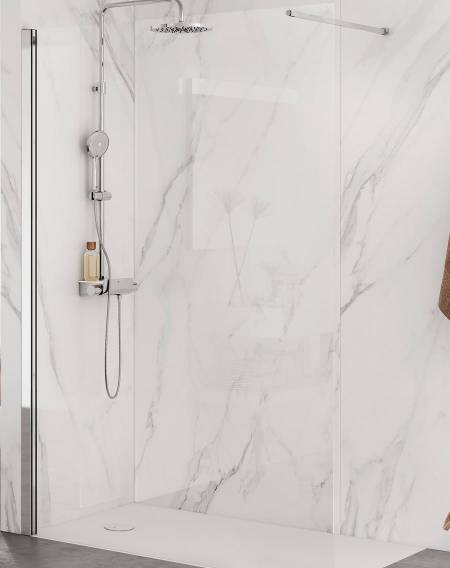 As a complement and if the bathroom dimensions allow it, we propose the Mistral fixed enclosure with Walk-In design, very useful to eliminate barriers and facilitate the access to shower trays with floor-leveled installation. This enclosure takes up a minimum space of 1400 mm by 2000 mm and has a fixed panel to provide this feeling of spaciousness, essential in a bathroom where every inch counts. Moreover, with Mistral you have the option of a towel rail, to make the most of the space.
3. Stonex® antislip resin shower surface and thermostatic shower column with rain effect
If you do not have much space for the shower but still wish to enjoy the feelings provided by the most innovative materials, opt for a Stonex® antislip resin shower tray. As it allows the exact cut to size, you can perfectly adapt it to the available space and as it is extraslim, you eliminate access barriers to the shower.
Textures inspired by nature are the hallmark of Stonex®. Hence, the Aquos antislip shower tray replicates the relief of stones to add an industrial touch to any bathroom style. Moreover, if you wish to camouflage the drain in the shower tray, install a Stonex® cover in the same color and unify the entire design.
Helios is a resin shower tray with the texture of wood, which generates a pleasant and warm atmosphere. If this were not enough, the finish of the drain grid can be coordinated with the color of the shower tray to have even more antislip surface and obtain a balanced design.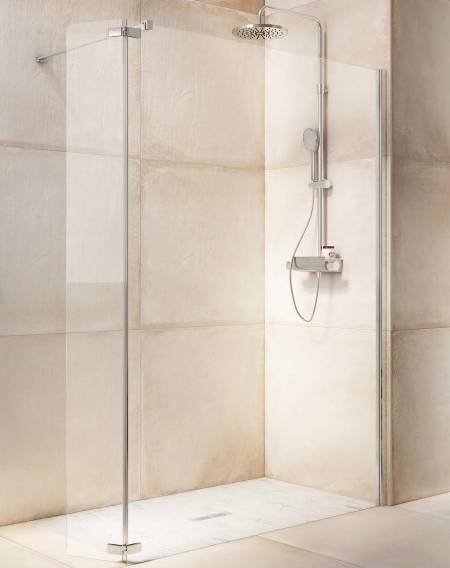 Aesthetics and safety are also ensured in the Terran antislip shower tray, which recalls the texture of cement. Based on the available space, you can cut it to size and adapt it to a square or rectangular area. The installation of the frame, which is optional, will allow you to select a more minimalistic look.
Whatever antislip resin shower tray you choose, combine it with a thermostatic shower column that adds comfort to your daily routines. With it, water reaches the ideal temperature in just a few seconds, without wasting a single drop. Moreover, the Safe Touch® system prevents the faucet from overheating and with Security 38º the temperature of 38 degrees cannot be exceeded, preventing burns and allowing users to save more energy. We propose the Deck model with a mixer that includes a small shelf, very practical to place your toiletries. Whether you prefer a Round or Square shower-head in your thermostatic column, you will greatly enjoy its rain effect in your daily shower.